Karmen Pepelnjak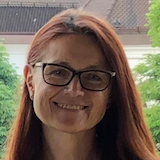 Karmen Pepelnjak, MSc. is an independent HR consultant, focusing on talent development through mentoring and coaching processes in the IT industry.
She has masters in Electrical Engineering and has been working in the IT industry for more than 20 years. After leading a software development team and managing a large-scale remote lab environment, she decided to focus on trying to understand human behavior in the IT world and transitioned into an HR manager role. Throughout her career, she worked with young talents (engineers and software developers) building and operating computer networks, and helped them develop their professional and personal uniqueness. Based on that experience she developed multiple customized programs focused on holistic development of young engineers.
Karmen is a mother of four beautiful children. In her spare time, she enjoys relaxing in her garden, producing natural soaps and creams, and doing yoga. You can find her on LinkedIn.