Introduction to Docker
Webinar: 4.45 Instructor: 4.78 Materials: 4.51 more …
Buy this webinar
| Product | Price | |
| --- | --- | --- |
| Downloadable MP4 videos and PDF materials (list) | $ 49.99 | |
| Individual ipSpace.net Subscription | $ 299.00 | |
| Professional ipSpace.net Subscription | $ 579.00 | |
More information
Other options
Webinar details
This webinar will introduce you to Docker - why everyone's talking about it, what makes it so useful, and how developers and operators use it to improve their workflows. Attendees of this webinar will receive not only a high-level overview of Docker concepts and terminology, but a few practical examples that empower them to use Docker for their own projects immediately
Happy Campers
About the webinar
I think that few real world examples of how Docker is being used in production, could have been great. But all in all, very good into!

Dan Shechter

To the point - there are take-aways even if you are already familiar with the technology

Ernest Altbart

It was okay, but not up to the usual ipspace standards.

Kevin B Gray
About the materials
I haven't any experience in Docker before and then two hours was a bit too short for me but was very interesting. I will watch the video again at my own pace now :-).
Very nice presentation. Thank you!

Noel Sestayo

I'm still learning about Docker, but thus far I can provide the following.

Security: Make sure to cover how Docker containers share the kernel of the host in a secure and resource containing manner using kernel namespaces and control groups.
https://docs.docker.com/engine/security/security/

Networking: I know that Docker networking is still in development, but demonstrations of how containers communicate within a host or among hosts using a Docker-based overlay isn't especially helpful. It is required, but not what I'm really looking for. I need to know how to really tie containers to the outside world, how to provide L4-L7 services, and how to do it at scale for real world production environments. The demonstration was great for a lab environment, but I need to see how to make this work in the real world; including multi-tenancy.

Kevin B Gray
Tweets
Woot woot! Matt teaching the "Intro to Docker" ipspace Webinar today. Nice surprise.

Getting ready to watch @ioshints and @Mierdin Introduction to Docker … should be good!
About the Author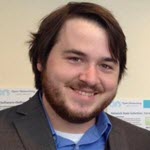 Matt Oswalt (@mierdin) is an all-around technology nerd, currently focusing on networking, open source, and everything in between. He is at his happiest in front of a keyboard, next to a brewing kettle, or wielding his silo-smashing sledgehammer. He deploys networking technologies around the world, and likes to blog about his experiences when he comes up for air.

You'll get
Downloadable videos in MP4 format (list)
Custom webinars
To get more information about customized versions of this webinar, on-site workshops, pricing or scheduling details, please contact us.
Related blog posts
Upcoming webinars