Designing Active-Active and Disaster Recovery Data Centers
Webinar: 4.80 Instructor: 4.83 Materials: 4.73 more …
Buy this webinar
| Product | Price | |
| --- | --- | --- |
| Downloadable MP4 videos and PDF materials (list) | $ 59.99 | |
| Individual ipSpace.net Subscription | $ 299.00 | |
| Professional ipSpace.net Subscription | $ 579.00 | |
More information
Other options
Webinar details
This 3-hour webinar covers typical design scenarios encountered when building a disaster recovery data center or deploying multiple data centers in an active-active configuration
Contents
The webinar covers these topics: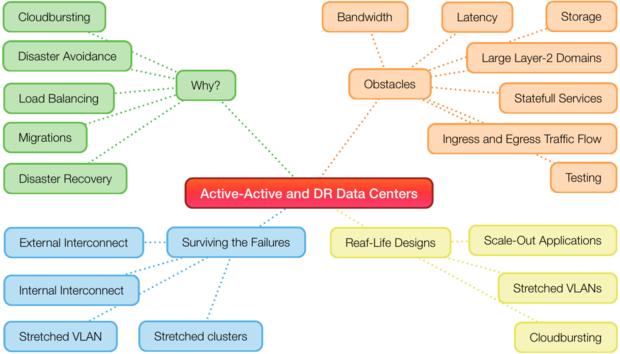 Happy Campers
About the webinar
Must see.
You'll understand(or get confidence) why not to stretch firewalls and VLANs between DCs. What is the right and the proper way things to be done.

Vladislav Atanasov

This webinar provides very nice feedback about challenges and drawbacks while designing active-active data center.

DENIS AVZALOV

Very accurate, precise, not only network centric, perfect presentation for peaople who want to have a clear vision of an active/active DC

GINGEMBRE Pierre-Louis

Hi Ivan,

The part of this webinar that i have focused on is hybrid cloud , large layer 2 domains and typical real-life designs. I really liked your story-board approach to explaining out Layer 2 connectivity between DC's has evolved. This will form a big part of a message i will be giving to our senior management team as to why i have have been recommending against Layer 2 DCI's. I recently attended a 2 day cisco ACI intro course and i am building the case for it internally. Your hybrid cloud video also hits on lots of concerns i have also. It is very useful to have this collated in the way that you do.

I am coming up to the end of my 2nd year of subscription. We will again subscribe for 2016, it is vital to assisting me in my job and i always recommend your site.

Keep up the great work.

Nicky Davey

it was perfect

Hassan HBAR

It was great, and don't span VLAN's across data centres, nor try to deploy stretched firewall clusters (unless you're an idiot / twit of course).

Kristoffer Sheather

This webinar provides excellent coverage of the main points about A/A data centres.
I would very much like to see it evolve over time to include more advanced topics as well as real world case studies .

Chen Rajuan

It's Great because it is about networking but not only. It replaces the network in the big picture of IT and applications hosting.

Mathieu Millet

Yes

Zarar Ismail

They should doing it to expand their knowledge about datacenters as network engineers.

Gabriel Sulbaran
About the instructor
i like the manner that Ivan explain things

Hassan HBAR
About the materials
It would be nice to have more real life examples and references for different size of data centers (private data center, public cloud mid-sized, big service provider). With detail explanation of challenges that they have focused on, which solution that they have chosen and why, how well it has been performing during maintenance.

DENIS AVZALOV

I dont usually give 5 stars for everything in surveys as no matter how good something is you cant say it cant be improved. However i have to say i cant fault your webinars, they are so relevant to my job and have impacted on me forming an opinion on DC design more than any other resource i have referenced.

Nicky Davey

I would very much like to see it evolve over time to include more advanced topics as well as real world case studies .

Chen Rajuan

This will help me demonstrate that other and much more respectable specialists, think like me.

Mathieu Millet

It's excellent.

Keep up with the good work.

Gabriel Sulbaran
About the Author
You'll get
Downloadable videos in MP4 format (list)
Custom webinars
To get more information about customized versions of this webinar, on-site workshops, pricing or scheduling details, please contact us.
Related blog posts
[Video Data Center Fabric Validation]
[Video Building a Pure Layer-3 Data Center with Cumulus Linux]
Upcoming webinars